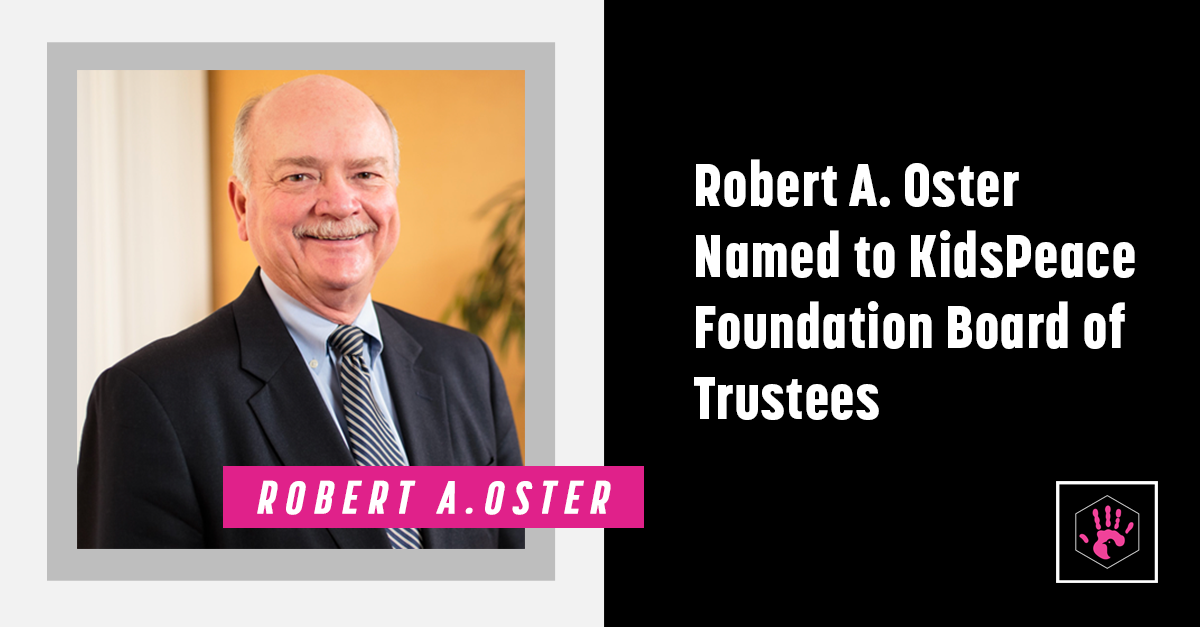 The KidsPeace Foundation announced that Robert A. Oster has been named to its Board of Trustees.
Mr. Oster is a certified public accountant who served as Chief Executive Officer of Concannon, Miller & Co., P.C. of Bethlehem, PA from 1998 until his retirement in 2016.  As CEO Mr. Oster oversaw Concannon, Miller's business development, day-to-day management, and community involvement activities in addition to managing a portfolio of client accounts in the nonprofit, manufacturing and employee benefit plan sectors.
"There's no question that Bob Oster is among the Lehigh Valley's leading citizens, and to have him join the KidsPeace Foundation's Board of Trustees is tremendous for our organization," said Ann McCauley, President of the KidsPeace Foundation. "His extraordinary financial background and demonstrated dedication to the support of non-profit organizations in our home region will be vital to the Foundation's efforts in the years to come."
Mr. Oster noted that he brings to his trustee role a historical appreciation of KidsPeace's mission as a result of previous experiences with the organization: "I thought it was important for me to engage with the Foundation to increase funding resources to further KidsPeace's efforts to aid children with mental and behavioral health challenges.  I also hope to seek out partnerships with related organizations to improve and expand the services available in the communities served by KidsPeace."
A native of Cleveland, Mr. Oster is a 1973 graduate of Ohio University.  Over the last four decades, in addition to his roles at Concannon, Miller, he has served in leadership positions on numerous non-profit boards – including Minsi Trail Council-Boy Scouts of America, St. Luke's Hospital, Northampton Community College, Lehigh University's Small Business Development Center, Via of the Lehigh Valley, Ben Franklin Technology Partners, and ArtsQuest.  
The KidsPeace Foundation was created in 2017.  Its purpose is to strengthen KidsPeace's connection to donors and potential donors, improve management of donated resources, cultivate and secure major gifts to support programming in a sustainable manner, and oversee the work of the KidsPeace Boards of Associates in their particular support activities.  www.kidspeace.org/foundation