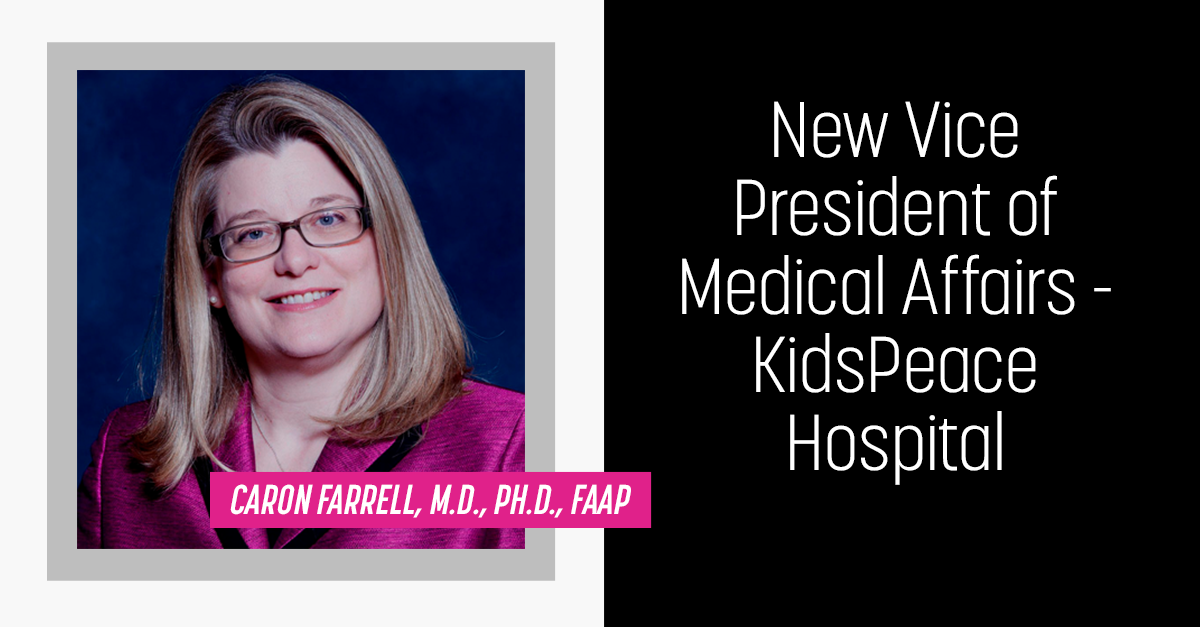 KidsPeace has appointed Caron Farrell, M.D., Ph.D., FAAP as Vice President of Medical Affairs for KidsPeace Hospital.  In this position, she will lead all hospital-based medical services at the hospital, including psychiatric, pediatric/family practice, nurse practitioners and physician's assistants.  She will also participate in providing clinic care for patients as part of KidsPeace's interdisciplinary treatment team approach.
Dr. Farrell has completed medical training in both psychiatry and pediatrics, and is triple board certified in Psychiatry, Child & Adolescent Psychiatry, and Pediatrics.  She comes to KidsPeace from serving as a child & adolescent psychiatrist and behavioral health program director at Children's Comprehensive Care clinic of Dell Children's Medical Center, and on the clinical faculty for child & adolescent psychiatry services at the Seton Mind Institute, both in Austin, TX.
Dr. Farrell is the author of numerous academic presentations and publications, and has been an assistant professor with The University of Texas medical school system since 2010, most recently with The UT Dell Medical School in Austin, TX.
Dr. Farrell received her medical degree from Yale University and a master's degree and Ph.D. in chemical engineering/molecular bioengineering from the University of Illinois.  She completed a combined residency in pediatrics, psychiatry and child & adolescent psychiatry at Indiana University School of Medicine.
Welcome to KidsPeace!