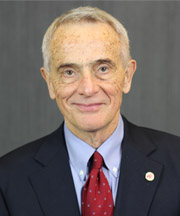 Richard Tisinger thought often about becoming a mentor to young people, but as an attorney in private practice and community leader in Carroll County, Georgia, he "just couldn't find the time to do it" – until this fall.
Tisinger is a member of the KidsPeace Board of Directors and a longtime advocate for the work done at the organization's Bowdon, GA campus. And when a consortium of local human services groups joined forces to encourage mentoring, that experience caught their attention.
"They saw KidsPeace on my questionnaire and said, 'We have someone that needs your help,'" he says. And as a result he was paired with Anastasia, a 17-year-old who needed a lot of support as she moved toward "aging out" of the foster care system.
"She had to learn all the things we think of as life skills – real world skills," Mr. Tisinger says. "And she was facing that while not really having any other adults in her life to help her outside of the foster care staff. So part of what I'm doing is just making sure she feels that I'm a consistent presence in her life – that I'm there for our meetings every week."
The first few meetings were not easy, as both Anastasia and her mentor needed to get comfortable with the experience and each other. "But I found out she liked to read, so I gave her some books and that helped get our conversations going."
Tisinger says he used a metaphor of doors opening and closing to explain his goals as a mentor. "I told her I didn't want to talk about what had happened in the past, the doors that had been slammed shut in her face. I wanted to focus on her future, because I believe there are still a lot of doors left to open to her."
Tisinger is now working on helping Anastasia find out about opportunities for courses and financial aid at a local technical college, and supporting the foster care staff's efforts to teach skills like home budgeting, shopping and cooking for when she is out on her own. The experience, he admits, has been much different than he anticipated.
"I had this idea of this being me taking a 10-year-old to the ballgame; I didn't think about mentoring being one-on-one conversations and talking things over with a teenager facing going out on her own. But the idea that I can make a difference in this person's life is very rewarding and satisfying.
"I'd tell anyone thinking about mentoring to put your procrastination aside and do it."