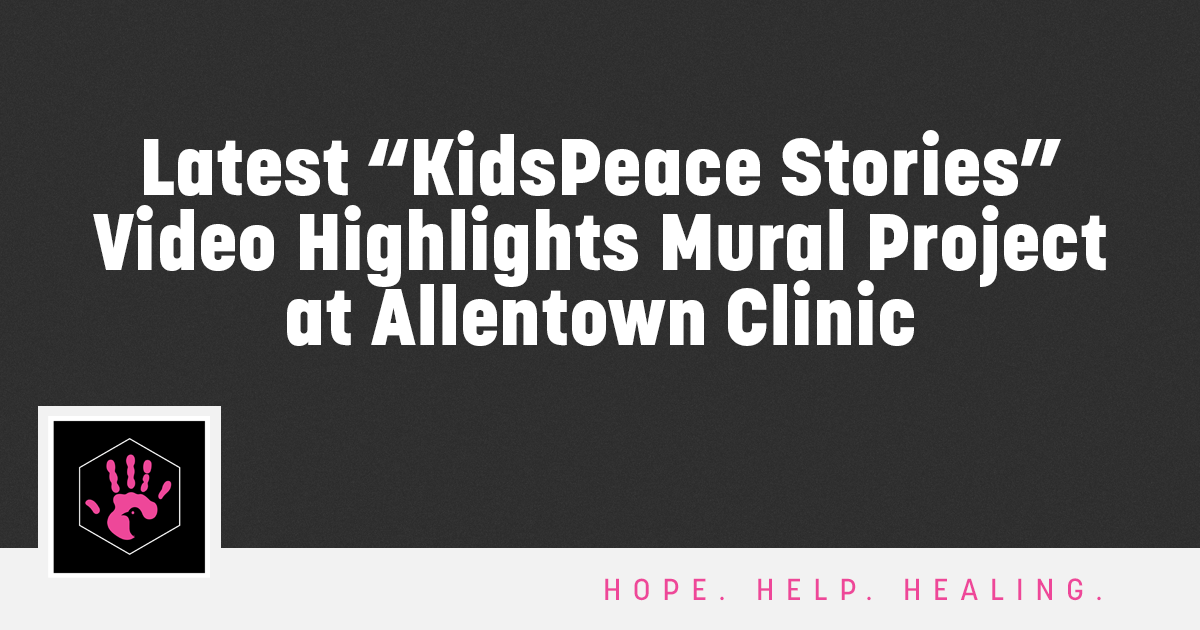 ALLENTOWN, PA (October 26, 2022) – KidsPeace has posted the latest installment of its "KidsPeace Stories" video series – told by a mural artist inspired by the care provided at the organization's outpatient clinic in Allentown, PA.
Artist Monica Salazar was commissioned by KidsPeace, People First Federal Credit Union and ArtsQuest's Arts In Education partnership through the Pennsylvania Council on the Arts to create a three-panel mural at the clinic's location on Green Street in east Allentown. The artist says she prepared by learning more about the clinic's purpose and operations.
"(B)efore I start working I always like to visit the facility just to make sure, like "what is in there?"  I mean, I hear about KidsPeace and I know what they do all around, but each facility has something different, so I came to KidsPeace and I visited the site," Salazar says in the video segment.  "I was talking to the therapist and I was asking questions like, "What kind of children come here?" He took me all over the place and showed me every single corner.  And that's what I like to see."
The resulting artwork centers on the journey of an eagle – ending with a surprising revelation about the bird. In the video, Salazar explains how her symbolism is meant to communicate a message of hope for the children and families who seek help at the clinic.  "I just hope that when they stop by, they get out of the car, and they see the mural, they smile.  Because, I mean, it's going to be a little bit funny, ironic.  They're going to say, oh, that's funny, and they're going to smile."
Salazar is working on a second mural on the other side of the clinic building, visible from Allentown's Andre Reed Park and connected to a planned garden project.  The two artworks will be formally dedicated in a community event at a date to be determined.
For 140 years, KidsPeace has been building on its expertise to give hope, help and healing to children, adults and those who love them. Through its comprehensive range of residential treatment programs; accredited educational services; unique psychiatric hospital and foster care and community-based programs, KidsPeace is dedicated to helping people connect, transform and overcome their challenges to ensure a stable future, transition to adulthood and gain independence. Since its doors opened, nearly 300,000 children have participated in one of the multitude of programs KidsPeace offers.
For additional resources or more information on how to get involved, become a foster parent or make a donation, please visit www.kidspeace.org. Follow us at www.facebook.com/kidspeace.org or on Twitter @KidsPeace.