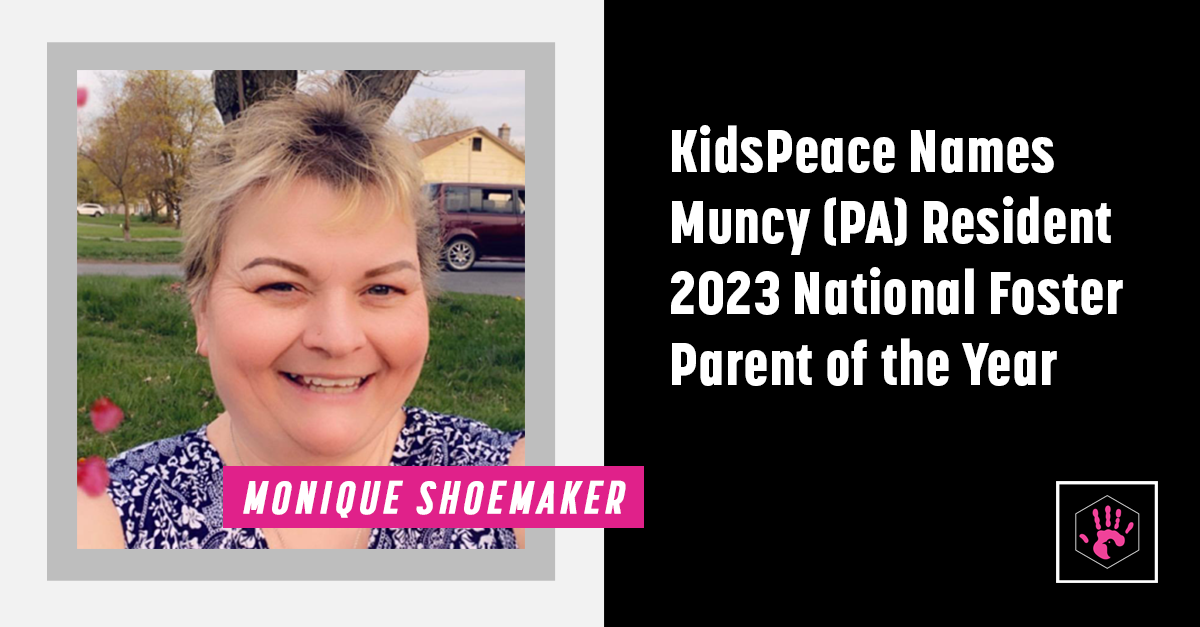 KidsPeace Foster Care and Community Programs (FCCP) has announced that Monique Shoemaker of Muncy, PA has been chosen as its 2023 National Foster Parent of the Year.
The organization said Ms. Shoemaker was selected by a panel of independent judges from among nominees from the six states in which KidsPeace has foster care operations. Her selection was announced at the conclusion of the KidsPeace Foster Care Virtual National Conference on Saturday, May 6.
In making the announcement, KidsPeace Executive Director of Foster Care Steve Howe noted the exceptional nature of all the nominees.  "This was not an easy decision by any means, as all of the nominees demonstrate the caring, energy and focus on the child's future that are the hallmarks of the best people in our field. On behalf of KidsPeace, we want all the nominees to know how much we appreciate and admire you, and are inspired by your example," he said.
Mr. Howe highlighted Ms. Shoemaker's exceptional work with sibling groups who are facing challenges related to health and traumatic experiences – citing Williamsport FCCP program manager Jessie Young's comment that "Mo really just wants to be a safe haven for children from hard places.  She makes them feel loved and wanted, often for the first time… All this is to say, Mo is an amazing foster parent."
 And Ang Delarge, FCCP Pennsylvania state manager noted: "Mo demonstrates an unwavering commitment to the kids in her care.  She has faced unexpected situations outside of the already challenging role of being a foster parent and puts forth tremendous effort to make sure each child in her home thrives."
As the 2023 KidsPeace National Foster Parent of the Year, Ms. Shoemaker will receive an all-expenses-paid trip to this year's National Family Focused Treatment Association's conference in Columbus, Ohio in July.  
The recognition is part of KidsPeace's National Foster Parent of the Year program, now in its second year as a celebration of National Foster Care Month in May.  The National Foster Parent of the Year is chosen from foster families nominated by leadership in each of the six states served by KidsPeace FCCP – – North Carolina, Virginia, Indiana, Pennsylvania, New York and Maine.