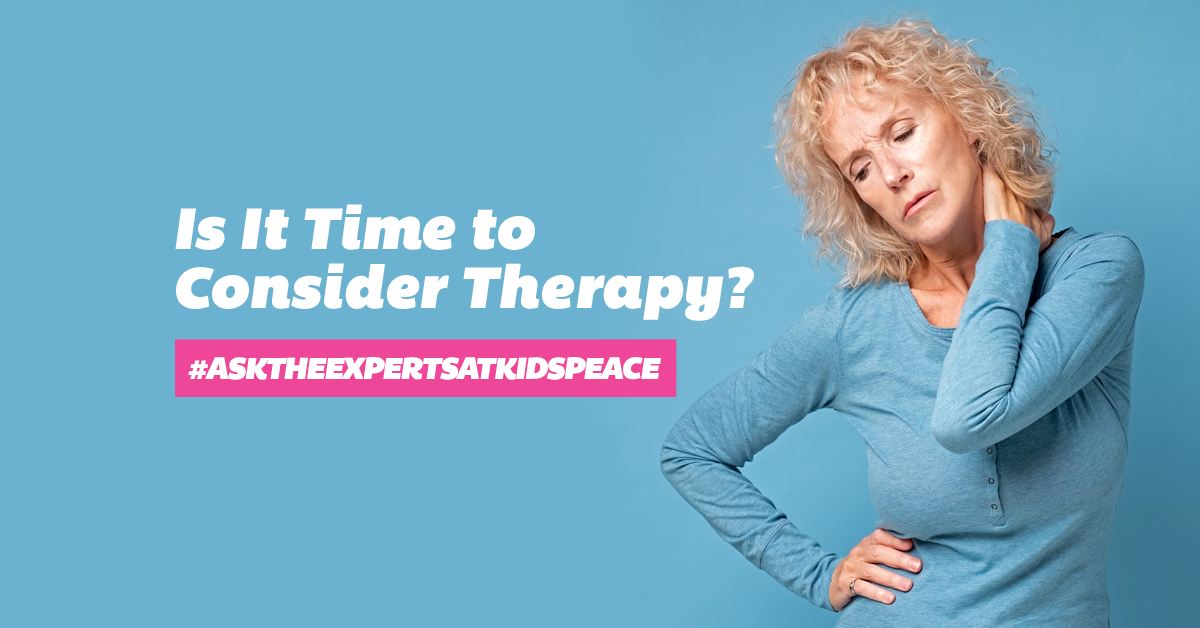 Is It Time to Consider Therapy?
A grandmother recently wrote to Ask the Experts:  "I have two grandsons, ages 14 and 16. They both are dealing with anxiety and anger issues. I am wondering how and when do we know as a family that it is time for more structured therapy. The 16 year old is having a real hard time with school. He was doing virtual then decided to go back to the building but just can't make himself go. The 14 year old is a little better but also sometimes has too much anxiety to go to school."
KidsPeace's Breannah Allen responds:
This is such a good question – and one we're hearing a lot lately. Your grandsons are not alone in feeling anxious and upset. The events of the last year have caused an incredible amount of anxiety for everyone. The pandemic has been especially difficult for kids and teens, who have even less control over their lives. Mix in a complete disruption to their education and social interactions – and it's understandable that our kids are struggling. 
The decision when and if to return to the traditional school setting has been especially anxiety-producing for kids and parents alike. Concerns about health and safety, changes in friendships and social groups or academic insecurity after being out of the classroom have made the return to school a hot topic in homes everywhere. Some families have been able to get support from their community; for example, guidance counselors and teachers are able to work with students to get them engaged in school in a way that makes the students feel safe. You can also utilize online resources, such as KidsPeace's www.teencentral.com, to get a better understanding of how anxiety can impact your family, as well as tools to manage it. 
Still, some families have found it helpful to seek out therapy as they manage the difficult emotions caused by the pandemic.  Deciding when to seek out therapy services is different for everyone, but there are a few questions to ask yourself (or someone you love) that can help you make that decision.
Is the anxiety negatively impacting other areas of my life? It's normal to experience some level of worry in your day to day life – it's even more common in the midst of a pandemic. Anxiety becomes a problem, however, when it gets in the way of doing things you enjoy or that might be good for you.  Additionally, if it is causing anger outbursts or tension in relationships it may be a good time to seek out some extra support.

 

Does it feel like my anxiety will always be a part of my life? Anxiety doesn't just cause distress in the present – it can begin shaping the way you picture your future and what you are capable of. If worry becomes a decision-making tool for your loved one, then it might be beneficial to process those thoughts in the therapy setting.
Does it feel like I'm managing my anxiety all on my own? Kids need to know that there are safe adults to reach out to for help. If they are struggling to seek support from the adults in their lives, it may be helpful to utilize family therapy to strengthen family communication and problem solving.

 
If you answered yes to any of the above questions, therapy might be a helpful resource for you and your family. The good news is that there is a lot of help out there. Many agencies are offering virtual sessions during the pandemic, and therapists are ready to help families navigate these difficult decisions. 
Note:  KidsPeace's offices in the Lehigh Valley and Monroe County in PA offer free walk-in psychiatric assessments for families in crisis; find out more at www.kidspeace.org/outpatient-services/
Got a question for Ask the Experts at KidsPeace?  Let us know at info@kidspeace.org.