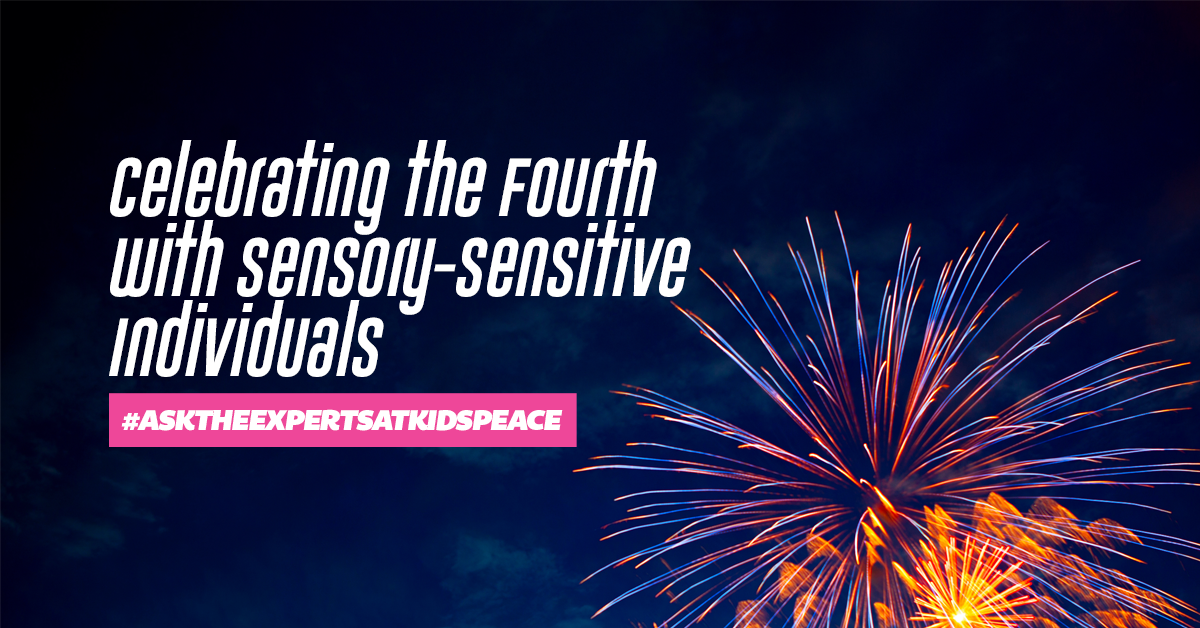 As the 4th of July holiday approaches, people are excited to celebrate with picnics and captivating fireworks; however, those holiday traditions can be stressful for sensory-sensitive individuals. How can families meet those challenges and allow all family members to celebrate safely and comfortably?  KidsPeace therapist Ashley Huber offers these tips:
Sensory sensitivity, which often accompanies Autism Spectrum Disorders, can include hypersensitivity to sound – meaning that for these individuals, sounds are often amplified and intensified, making those captivating fireworks terrifying and stressful. It is important to preview for the holiday, brainstorm and establish plans and ideas to minimize this stressor:
Parents and loved ones can have open conversations with the child regarding the holiday, what they are and are not comfortable with and how they would like to spend the holiday.
Families can have a designated "quiet" or "calming" area that contains the child's preferred and comfort items they can utilize to keep their body calm and soothe the stress they are experiencing.
Participate in activities that are considered the child's special interests such as, Legos, trains, Star Wars, movies, videogames.
Reduce other agitating sounds within the home.
Utilize noise cancelling head phones or ear buds.
Fidgets are great tools to help with stress and anxiety! Whether it is squishy items, fidget cubes/spinners, therapeutic putty/sand, stress balls or pop fidgets.
Each child has their own individual sensory needs which can be targeted through various means including a weighted blanket, body brushing and swinging.

 
Lastly, it is important to provide education to family members and friends to increase the safety of the child, as children might elope or run to escape from the sound.