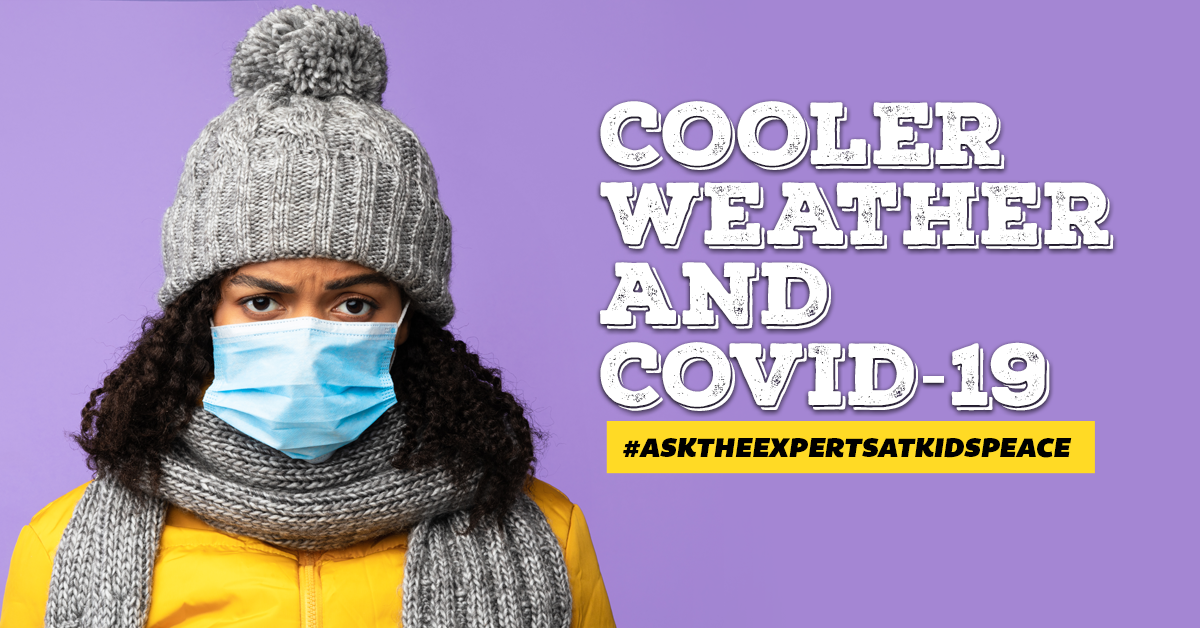 As the calendar pages flip to October, the weather also starts to shift. For our Ask the Experts at KidsPeace entry this week, we asked Dr. Matthew Koval, Chief Medical Officer at KidsPeace: "What does the coming cooler weather mean for the COVID-19 pandemic?
We saw an improvement in slowing the spread of coronavirus during the summer. One reason is that the virus does not spread as well in outdoor environments (due to abundant sunlight, ambient wind/airflow, and more space for physical distancing) and more people frequent those environments in the summertime.  Adoption of infection control measures also contributed to the slowing of the infection rates, as did the fact that more young people are among those infected. (Although young people, including children, can carry and transmit the virus to others, they tend to not be as sick and suffer the level of mortality that we see in more vulnerable populations.)
It is important to note that while we did see infection rates and death rates drop in about half of US states this summer, we also saw infection rates rise in the remaining states.  Overall, though, the situation improved during the summer months from the spring – which led folks to believe the pandemic was controlled and thus are choosing to ease up on the all-important masking, hand washing, social distancing, and cleaning protocols.
However, the days are going to be getting shorter, the weather is going to be getting colder, and more and more people will revert back to more indoor activities than outdoor ones.  Those young people who have contracted COVID-19 and had few symptoms will not be outside where they are less likely to transmit the virus to others; they will be back inside where transmission rates are higher. And on top of that, there's the confounding variable of the impending flu season. 
All of this points to the need to redouble our efforts in regard to masking, physical distancing, and all of the other protocols that have been developed to keep us safe from COVID-19.  If we have any chance of avoiding a "second wave" in the coming months it will be because we religiously practice our infection control efforts. 
So my advice is to be kind, wear your mask, practice social distancing, and get a flu shot.  It's the right thing to do.