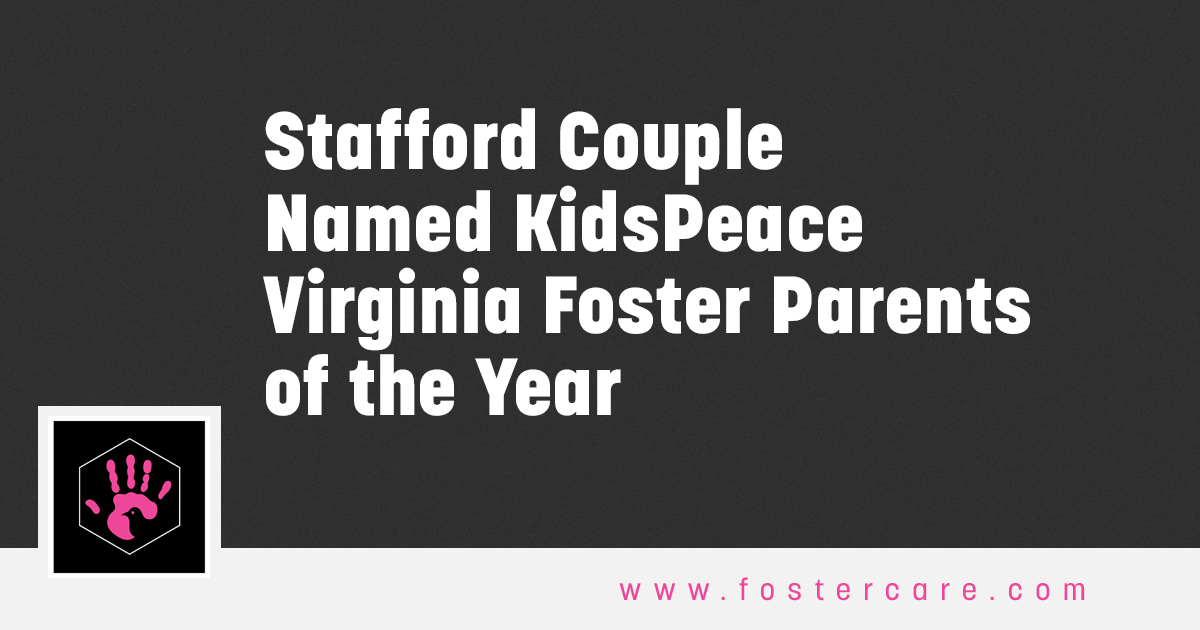 RICHMOND, VA (May 5, 2022) – KidsPeace announced that Willie and Paula Aristene of Stafford, VA have been named the organization's 2022 Virginia Foster Parents of the Year.
The couple were nominated for the recognition by KidsPeace Virginia state manager Jessica Mendez. In her nomination, Mendez noted the Aristenes' commitment to helping many different children through fostering.
"They have taken infants all the way up to 18-year-olds into their home, they have kept in contact with the children who have left the home and moved on, they have celebrated the children's high school graduations, they have accepted respite placements and are always our 'go to' family when we are struggling to find a placement for a youth," Mendez said.
Mendez also relayed a story about a respite care situation involving a 5-year-old with autism and significant medical and behavioral issues. The Aristenes agreed to take the child so that her foster family would have a break, but the foster family then decided they could not take the child back due to her challenges. "When we called Willie and Paula to ask if the young lady could stay with them a little longer while we looked for another placement, they responded, 'No, she is now an Aristene and isn't going anywhere as she has stolen our hearts.' Since then, Willie and Paula have adopted her!"
"Frankly, we in the Richmond office are floored over and over again at the Aristenes' willingness to go above and beyond in their dedication to ALL children they bring into their home," Mendez adds.
As a result of being named KidsPeace Virginia Foster Parents of the Year, the Aristenes will be considered for recognition as the organization's National Foster Parents of the Year. That selection will be announced during KidsPeace's first-ever National Virtual Foster Care Conference, scheduled for Saturday, May 21, 2022.
For 140 years, KidsPeace has been building on its expertise to give hope, help and healing to children, adults and those who love them. Through its comprehensive range of residential treatment programs; accredited educational services; unique psychiatric hospital and foster care and community-based programs, KidsPeace is dedicated to helping people connect, transform and overcome their challenges to ensure a stable future, transition to adulthood and gain independence. Since its doors opened, nearly 300,000 children have participated in one of the multitude of programs KidsPeace offers.
For additional resources or more information on how to get involved, become a foster parent or make a donation, please visit www.kidspeace.org. Follow us at www.facebook.com/kidspeace.org or on Twitter @KidsPeace.