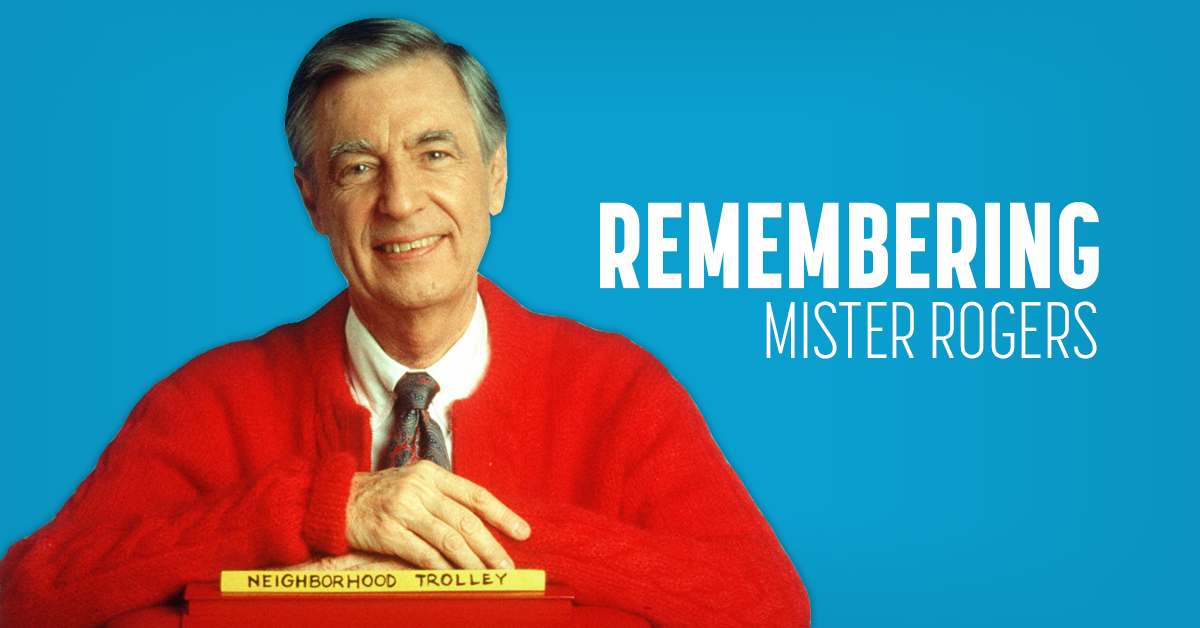 This week marks what would have been the 90th birthday of the late Fred Rogers – or as he was known around the world, Mister Rogers. 2018 is also the 50th anniversary of the premiere of his beloved children's TV show Mister Rogers' Neighborhood. To mark these milestones, we asked some KidsPeace associates to share their thoughts on the impact of the man and the program on their lives and their work:
"As a kid, I loved the predictability and the consistency of Mister Rogers, especially as he started and ended his show. His "Beautiful Day in the Neighborhood" song which he sang while he changed into his sweater and sneakers, his "Hello, Neighbor!" greeting, the fish feeding and the inevitable first visitor to come to his door gave me a sense of comfort and calm. I always knew what would come next, but instead of being "bored" by the format, I found it soothing. Looking back on those memories help me to recall, first hand, how important consistency is to children. Predictability is not always monotonous. Instead, it can provide solace to a child in an unpredictable and sometimes frightening world." – Caren Chaffee
"I think his show was revolutionary at the time because in an era when kids were still "to be seen and not heard," he really supported the idea that a child's imagination and thoughts were not something to be ignored, but rather something to be cultivated. He valued education and provided the opportunity on his show to expose children to the arts. The shows I remember most as a child were ones where he visited the music shop to try out instruments or visited the ballet and interviewed ballerinas. For me it was a feel good show that was entertaining and such a contrast to the high energy, often aggressive cartoons that were competing for airtime in my childhood." – Alexis Harvey
"I believe that Mr. Rogers had a huge effect on me as a professional and in the way I interact with the children that I serve. I attempt to emulate his calm, soothing voice when I have kids in crisis. Mr. Rogers was an inspirational teacher and a role model. This is what I strive to be for all of our children. Even in the darkest moments, his smile was a beacon to show the way out of tough situations. His example is what I seek to mirror for our children." – Jason Frei
"I distinctly remember being surprised by the fact that a grown-up was playing pretend. My parents were (are) both wonderful, but they did not ever engage in pretend play with us, but this man on television did it all the time and seemed to enjoy it! Looking back I realize there were so many stereotypes that he broke, setting a wonderful examples for the children of our time." – Rob Harvey
"When I was in college, I had the honor to be a part of a musician's group that appeared on one of his shows that aired in 1999 (Noisy and Quiet – episode # 1736). It was evident to me that the Mr. Rogers I met in person was identical to who he portrayed on television. He was an once-in-a-lifetime, authentic role model, whose messages of kindness towards others and peace resonated to a generation of kids that are now adults serving in the Mental Health field." – Michael Baransky
On Friday, March 23, the United States Postal Service will unveil a stamp honoring Fred Rogers and his contributions to children's television.