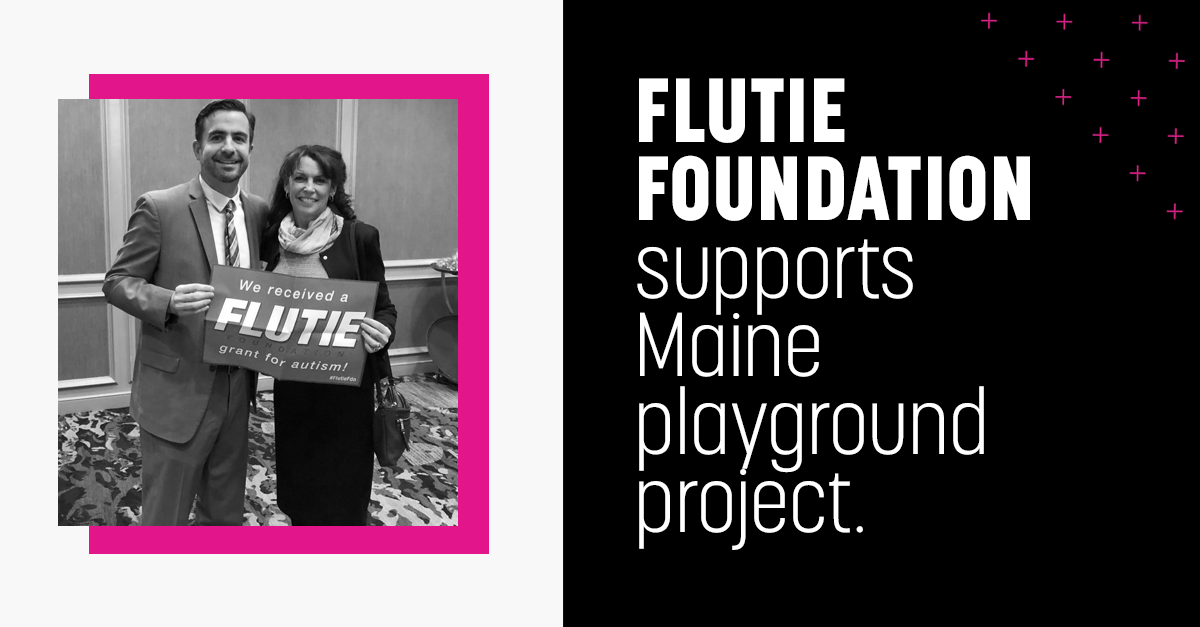 Denise Hamlin, Director of Residential and Education Services at KidsPeace's Graham Lake Campus in Maine recently joined the Executive Director of the Doug Flutie, Jr. Foundation for Autism, Nick Savarese, in celebrating the foundation's support for the playground project.
KidsPeace received a $5,000 grant from the Doug Flutie, Jr. Foundation for Autism for playground improvements at its Graham Lake Campus in Ellsworth, Maine.
KidsPeace New England has redesigned the Graham Lake playground facilities to include apparatus and activities which respond to the sensory needs of youth on the autism spectrum and with developmental disabilities. Open-air recreation and therapeutic play opportunities are proven to enhance therapeutic treatment and improve sensory and social responses to various situations and stimuli.
The Flutie Foundation gift will allow KidsPeace to add a wide variety of playground equipment pieces so that youth in its programs at Graham Lake can benefit even more from the opportunity to play and interact with each other on the playground.
"It's been said that play is the work of children, and having the opportunity to play in a safe and enriching environment is even more important for kids like those in our programs," said Ken Olson, executive director of KidsPeace New England. "Thanks to the generosity of the Flutie Foundation, we will be able to enhance that experience for all our kids going forward."
"The Flutie Foundation Signature Grants help our partner agencies address a variety of significant needs in the autism community," said Nick Savarese, executive director of the Doug Flutie, Jr. Foundation for Autism. "Programs like those at KidsPeace are helping people on the autism spectrum live life to the fullest, and we are proud to support their efforts."
The Doug Flutie, Jr. Foundation for Autism, based in Framingham, MA, awards grants annually through a competitive application and review process. The Signature Grants that the Flutie Foundation distributes each year help to support family-focused programs in three key areas: promoting active lifestyles, improving access to services, and enhancing the independence of adults with autism.
If you're interested in joining the Flutie Foundation and other donors in supporting the Main playground project, Click here to make a donation: