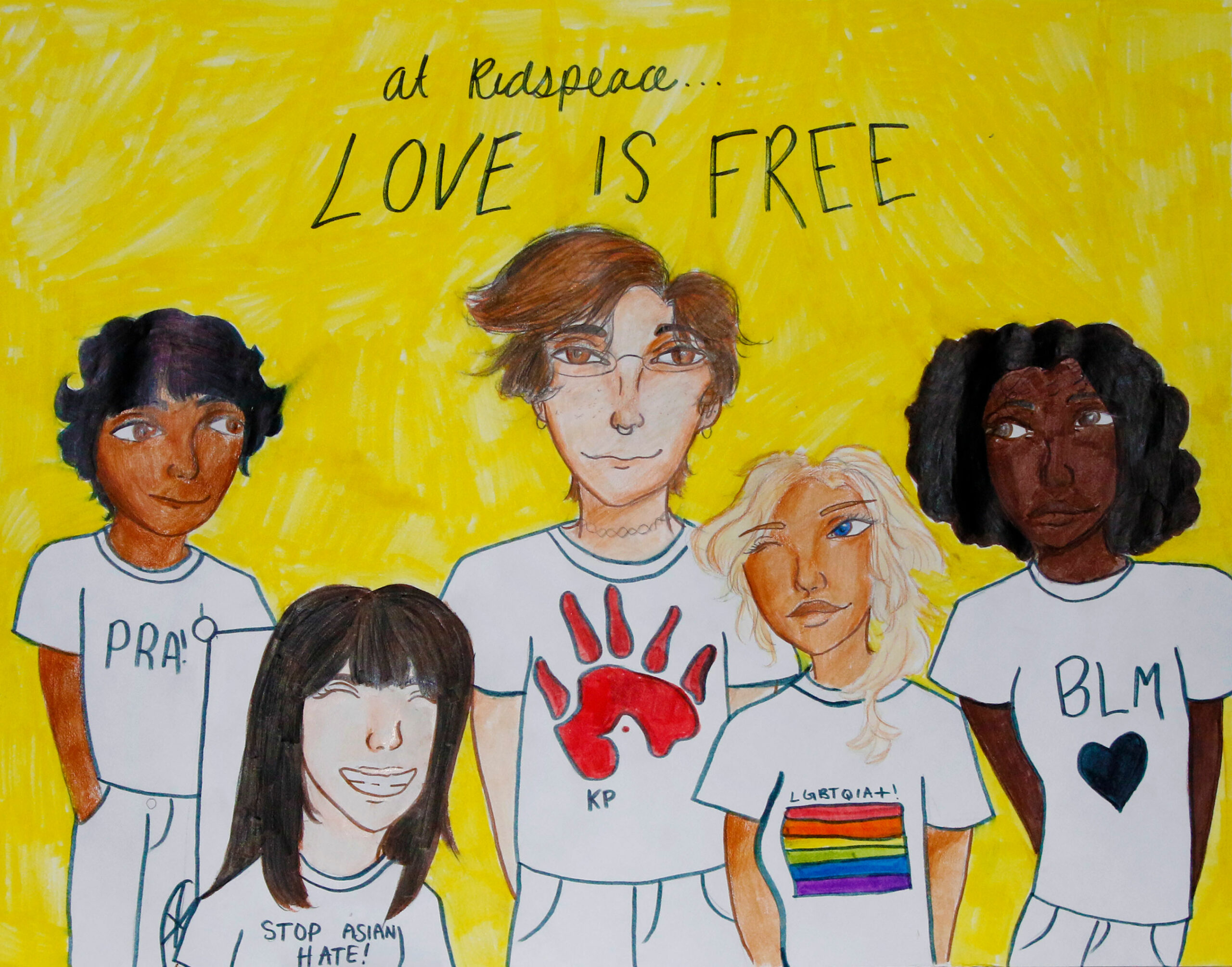 Sophie, a teenager who recently completed treatment in KidsPeace's residential program in Pennsylvania, is an accomplished artist who created an inspiring drawing with the title "At KidsPeace Love is Free."  She discussed the drawing, her passion for self-expression, and a key lesson learned during her treatment:
"From a very early age I've always been into drawing and painting.  I don't recall what my first picture was, but I remember that when I was really young I would just draw.  My parents had this thing where we kids would have this binder, and we would sit down together and my mom would give us a topic, and we would draw it.  I was really young at the time – 5 or 7, maybe.  All the pictures weren't very detailed, of course, but we did this quite a bit.
I love making art and painting.  I still do it all the time.  I really like playing music, too. I'm in the band at school – I play the flute – and I also play the piano and guitar.  It's like my drawing — it's another great way to express yourself.
The artwork I did at KidsPeace was inspired by this one Google Doodle I saw when I was in middle school.  It was about diversity and I really liked it and thought it was cool, and I wanted to make my own piece. I think I did this one at this particular time because mainly I was going through a lot in my life and I just wanted to make art that would make other people happy… because that makes ME happy!
I named it "Love is Free" because I see posters everything that say Love is Free or Kindness is Free.  That's really true – you don't have to, you know, pay someone to receive love and kindness …It's just free.
I put messages on the T-shirts the people are wearing because it's hard to express some things.  I thought about having the people holding signs, but I really wanted to show their faces so I used the T-shirts instead.
The people in the drawing aren't based on anyone I know, and they're not meant to be anything specific.  I think they represent the world, and what I wish the world was like, I guess.
One thing I learned at KidsPeace – if you want something, you have to go work for it.  When I first came to KidsPeace I was, like, "I'm just going to get out of here and I'm going to go back to doing the same things I was doing before."  But then I realized that if I wanted to get out but still have the kind of life I wanted, then I really need to work for it — work for things like my art."
As told to KidsPeace's Bob Martin